What follows is from my handwritten journal chronicling Activity Week, where I, along with 17 fourteen-year-olds and two others adults, lived for a week in the impoverished Indian village of Gaird.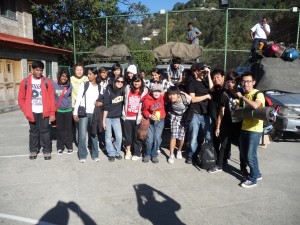 I am so freakin' ready for this to be over. I am tired, hot, and developing a bad cough. The students are even more ready than I am, and have taken to complaining about every little thing.
We awoke to the standard yummy chai and breakfast. Roti with scrambled egg, bell pepper, and onion. (Breakfast taco!!) Then we departed for a hike down to the river that flows through the canyon at the bottom of the mountain. The walk down was not terrible, and mode more fun by the scared shrieking of a co-worker who had trouble navigating the steep, rocky path.
We got to the bottom and found the river, pretty but small and unspectacular. Given the tiredness of our bodies and the length of the hike (during which I continually assessed the difficulty of climbing back up, which was extreme), we needed spectacular. We wadded in the very cold water (run-off from melting Himalayan snow) and threw rocks around. We rebelled against our guide, who tried to take us to a "pond" a ways downstream – knowing that is would only add to our hike at the end of the day.
The one nice thing about the hike was that the path was quite deserted, giving me a respite from villagers gawking at my weight, though my students did continually ask me if I would be able to make the climb back up.
Later,
The climb back to the camp was agony. My entire body aches. It took me a little longer than the kids and lots of annoying school children kept running up and down the path, carrying things on their head (supposedly doing chores, but I felt the taunt…) Nothing really major to describe the walk back up, just pain upon pain.
Getting back, I learned several interesting facts. First, the villagers had taken bets that I would not be able to climb back up the mountain. They lost. Suck it, villagers. They also had a donkey prepared, which they were expecting to send after me. Again, suck it villagers.
Second, when the village teacher asked his students what was their favorite part of our visit, all (apparently) said "I like it when the fat man dances." which shall be the title of any book I write about my experiences in India. They all call me fat man, despite my many desperate attempts to get them to call me by my name. This goes to show you should never learn the word fat in a foreign language, it only leads to sadness. "Mota, Mota!!!"
Dinner was noodles with cabbage, okay but the whole veg thing is over for me. Tomorrow, I eat meat. Yummy, yummy meat. We wake up tomorrow, watch a demonstration of village handicrafts, and then load back into the vans and head home.