It is 3 PM and I am exhausted. The day began early with tea at 6:30 and breakfast at 7:30. Then we broke into groups and tried our hand at a variety of (staged) agricultural experiences. I plowed land using two cows as power. I cut grass with a sycle. I pounded rice into edible rice with a big wooden staff. It was neat for the 15 minutes I actually participlated in each activity, but no way in hell could I do this on a daily basis. At worst, I would be a village teacher. 10,000 RS per month and a room in the school. Not perfect, but better than being behind a plow. (This also makes me wonder how odd it must be to make 10,000 RS a month in a place where the average income in 2000 RS.)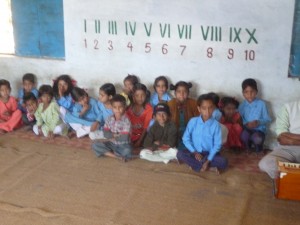 After the agricultural experience, we headed to the next village over to visit another school. The distance is not far, 4 KM or so, but the villages are 1/2 down the mountain and the roads circle the tops, so walking from the village to the road is often a painful experience. The oaths are steep and zip-zagged, and have no safety precautions. But we stumbled down to the school and had another great hour with the kids.
They showed off dances and songs and were overjoyed with their lessons. This school was much happier than yesterday's. The building was still small, but the walls were covered with lessons and art work, and the place looked much brighter because of it. I took tons of pictures and was lucky the batteries on my camera and flipcam held out until we left. (Though no more pictures after, sadly).
After performing their song and dance, the kids expected a song in return and my students were apparently not up for the challenge. So, sleep deprived, congested, and physically exhausted, I taught a gaggle of Indian kids "Twist and Shout". I fear the youtube video is imminent.
Later, while the kids were having their lessons with my students, I sat and spoke with the adults. The teacher of this school, a female, tried to secretly take pictures of me with her cell phone. She was not as subtle as she had hoped. One of the adults that had been with us for the last few days knew I would not get angry so just told her to take my picture with me smiling. She asked me for a picture and I agreed, to much adult giggling. The price of freakishness.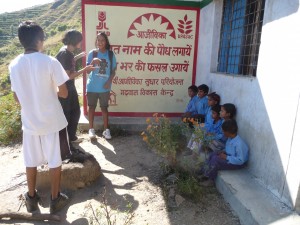 The walk back was excruciating, as the climb to the road was dreadful. But I eventually hobbled back to our campsite.
Later,
Exhausted. Tired beyond words. The week is really starting to take its toll and, as we don't return to school for another two and a half days, on a Saturday, I will only have one day to recover before classes. And with Merideth out of the country, it will not be a restful day.
So we got back to the campground and rested for a bit, then got ready for our "cultural exchange", a campfire talent show where the students and the villagers trade songs and dances. The villagers laughed profusely when I got up to join them in Bollywood style dancing, and our students eventually did fairly well covering American pop songs on their guitars, they had a bit of trouble getting started so, like a good Texan, I taught them the Chicken Dance. This might wind up on youtube as well. And was a big hit.
A student asked if I felt weird being constantly poked by the village kids and I said, "yes. Very." Just another reminder of how out of place I am here.
After the bonfire was dinner. Potatoes, rice, dal, and boiled sigar cane that tasted like candy corn. While very yummy, I have been here almost a week and I am getting sick of being Veg. I want some meat. Glorious, glorious meat.
The students are wound up due to the bonfire, so I am about to go to sleep amongst a pack of chatting teenagers, all gabbing incessantly about God knows what. Better God know than me.
No reading tonight as my Kindle has been stolen by student. I can't help but say yes when they beg to borrow it, because how many times to teenagers beg to read?