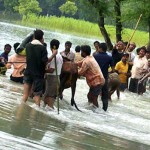 Tomorrow, I leave Mussoorie for 6 days of camping in a rural Indian village with a gaggle of ninth graders. It is called Activity Week and each grade spends a week away from the school doing activities that encourage exploration and an awareness of nature.
It is a great idea.
But it means I am going to spend a week of cold nights in a tent with 12 ninth graders complaining about the lack of plumbing.
My village is called Gaird, and the plan is to spend the mornings at the local school house with the ninth graders teaching lessons on English, Math, Science, Art and Health. I do not teach, I only supervise. The afternoons will be spent hiking and farming with the villagers. The evenings are spent with the villagers in their homes, eating their meals with them (which means I will be Veg for a week, the horror). Then we retreat to the campground for journal writing and meetings.
I should come back with numerous stories, but for now I am worried. Not about camping, which I enjoy. Not about the lack of toilets, gross but oh well. Not about monitoring children. I am worried about the villagers. I can't imagine the kind of impression I will make. A village of farmers, scraping together a living as best they can, will be playing host to an overweight, weirdo Westerner.
I worry that my weight will literally be rude to these people. Just another wonderful side effect of body issues.
Merlin is headed to the Snow Leopard Nature and Adventure Camp for the week. Avtivities include hiking, rappelling, rafting and rock climbing.
Gavin is headed for the Chilla Forest Rest House, where he will spend the week learning about the Ganges River near the Rajaji National Park.
It should be an interesting week.