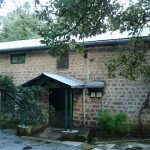 One of my reasons for coming to India was a ridiculous desire for adventure. My complete dread of death is paralleled by a dread of living a life less than… well, a life less than. If I am not living, then I am wasting my time on this earth. So I concoct hair brain schemes aimed at "excitement" and I usually get it, along with exhaustion, stress and financial ruin.
I blame a lot of my desire for an extraordinary life on Pippin. Many moons ago, I discovered one of my first musical obsessions, Pippin. Now, Pippin gets a bad rap these days, due to the proliferation of high-pitched, squeeky freshman boys singing the parts. But, when sung by people who can actually sing, it is a fabulous musical, and one where I always see myself.
Pippin, the main character, has no stability, no focus, no plan, because he has faith that his life is supposed to be extraordinary, and he spends the entire play running around trying to discover exactly what he is extraordinary at. I feel the same way, ridiculously. I was raised to believe I could do anything I put my mind to by a man who actually could do anything. I worked hard, and often came close to some pretty great achievements. But never actually obtained any of them. The more this happened, the more I blamed myself for somehow messing up my own destiny.
So, every now and again, when I feel I am becoming too boring, I get antsy and try "something". Usually it turns out ludicrous, and it almost always distracts me from my other pursuits just enough to keep them from going smoothly as well. India, films, plays, grad school, plots galore. All of it to ensure a life less ordinary.
And as I sit here, having spent all day inside a house on the side of a mountain in India, watching downloaded American TV and surfing the internet waiting for friends from home to hop online, I ponder my life. Moving to India has made me more boring, another plan backfired.
And I wonder, is being extraordinary at concocting ill-thought out adventures enough?
Yeah, it just might be.